Welcome to the Massive Marketing Success System!
Step A
Join me in TrafficLeads2IncomeVM HERE, which is the first step in setting up your list building lead capture page. (TrafficLeads2IncomeVM is a viral mailer, which means you can advertise via email to their members. It also has a lead capture page system.) Now enjoy 10000 Credits via this Promo Code:  MMSBlog  – If you are already a member of Trafficleads2income, there is no need to rejoin. You may have made it here direct from your signup, if so, WELCOME!!!

Next, consider a Breakthrough Upgrade at Trafficleads2incomeVM. Click HERE for the benefits and you can get a FREE Trial as well! It is one of the highest level offered at Trafficleads2incomeVM and maximizes your MMS Set Up. The easiest way to get my best upgrade is to join Digital Altitude for $1; mentioned in Steps 2 and 7 of the 7 Steps to Success in your Trafficleads2incomeVM back office. You will notice that Step 1 offers up to a 14 Day Free Upgrade to the TL2IVM Breakthrough Level. Login to Trafficleads2incomeVM HERE.
The Massive Marketing Success system is a method I am using to promote a branded lead capture/squeeze page that generates leads for my Primary Business and can be applied to all opportunities. The reason you would want to use a page like this is you gain additional credibility when your page is unique and personal. In other words, not just another company page plus these are real time leads your are generating!  Other elements of income from this plan can be derived from Trafficleads2incomeVM, Get Response, Digital Altitude, and Referral Frenzy…all in the Trafficleads2incomeVM Downline Builder! So essentially, you are generating leads for these as well and possibly some of your own resources too! If you use another auto responder outside of GetResponse, that is fine as the system is adaptable.  Your sponsor gives their Auto Responder Recommendation in Step 2 inside Trafficleads2incomeVM. If you joined Digital Altitude for $1 after your TL2IVM Breakthrough Upgrade, connect with your coach there in Step 1.
Step B
(This is for those who want to learn to build their list first then enter people into the Trafficleads2incomeVM Funnel. This course is found in the resource area of the Trafficleads2incomeVM Downline Builder.)
Follow the 7 Step Marketing System in Trafficleads2incomeVM. In Step 2, you are going to need an autoresponder and what I'm about to show you GetResponse is the professionals choice!  You will find the steps begin on the Home Page after you first log in to the members area. The First Step is right on that page. Before leaving Step 1, make sure you enter the promo code there to get your FREE 7 Day Top Level Upgrade. Read the details and the options of this Upgrade HERE. Once your upgrade is set, you will be able to join Digital Altitude and GetResponse in Step 2. Also when you get to Step 2, be sure to fill out the survey to see if you qualify for my personal mastermind coaching to help you get to the 3k+/mo plateau in your business. Once you are upgraded, Go to your Profile at Trafficleads2incomeVM. Where it indicates AutoResponder, enter your affiliate url for (GetResponse) or whichever autoresponder you are using.  Where it asks for Primary Business, place your primary business opportunity URL there. (Including the http:// ) Also go to the Downline Builder at TrafficLeads2IncomeVM and add your Referral IDs; then Update.
Your thank you page is provided by TrafficLeads2IncomeVM and the link looks like this:
http://www.trafficleads2incomevm.com/ty.php?rid=x  (replace x with your id number from TL2IVM). You can edit your thankyou page to your own customizations. Feel free to copy my format. There are many different approaches you can take on a thank you page. You can even use a blog post like this one as a thank you page!
At this point please follow the instructions laid out in the video below which review the set up with you. This guides you through the first 5 Steps with GetResponse as the chosen Autoresponder.
Step C
Now go back to TrafficLeads2IncomeVM.
The next piece of business is creating your Lead Capture Page. Back to Step 4 in TL2IVM, Paste your Form Code in the box indicated and Click Save My Autoresponder Code. Click Create New Lead Capture Page, choose your template, and name your page MMS. Now select your new page from the dropdown menu and edit it just like this: (If you are not using an autoresponder, you can replace the #AUTORESPONDER# code with your Primary Business Link or any link for that matter. (Referred to as a splash page). (Again, easily editable to your customizations.)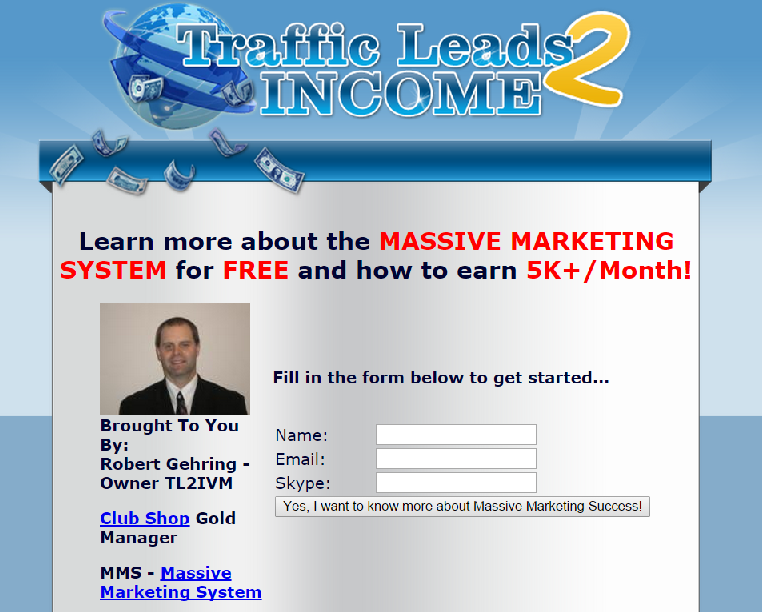 While you are here, edit your thankyou page as well, adding a link to your Massive Success blog post so your subscriber can follow the steps. (  Example below – You create the blog post by simply copying and pasting mine into an empty blog post of yours and editing accordingly.) See Digital Altitudes Blog in your TL2IVM Downline Builder as part of their Aspire Training; or use your own blog. You can also link to the generic one (http://trafficleads2income.com/blog/mms) which does not contain any specific links, just references to the downline builder.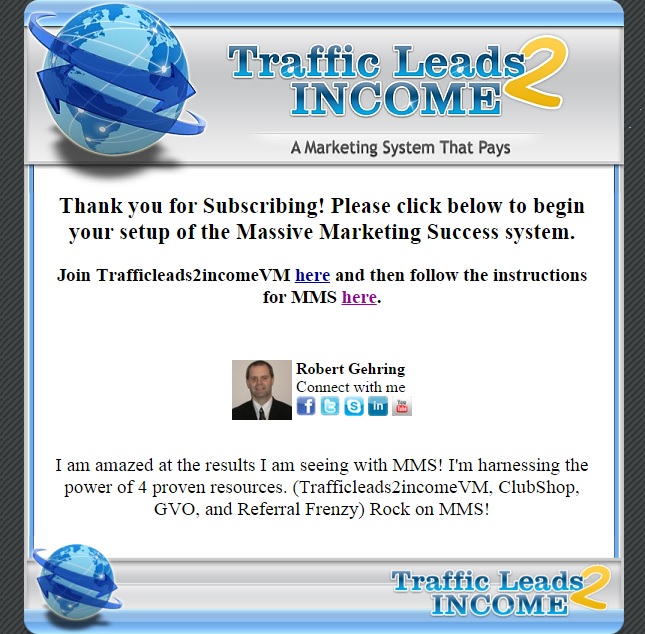 Tip: When setting up links in your Blog, always choose the option to open up in a new window which is also known as Target _blank.
Your new MMS System now gives you a special list building lead capture page that will bring people to your MMS System, where they will have all the tools and support to build their own TL2IVM and other downlines as well as Drive Leads to Your Primary Business!
Step D
Follow Steps 5-7 in TrafficLeads2IncomeVM in order to get Traffic to your new Lead Capture Page, which will build your list, build your Primary Business Downline, your TrafficLeads2IncomeVM Downline and ultimately your Income too! Join the Primary Business recommendation of your sponsor listed in Step 5.  Referral Frenzy is a HUGE resource mentioned in Step 5 at TL2IVM which drives traffic to your splash/lead capture page funneling leads into your Primary Business. Join from the Trafficleads2incomeVM Downline Builder. Additionally, if you are looking for a great promotional email for MMS, see your Affiliate ToolBox Area in Trafficleads2incomeVM, Step 5, Subject: Introducing the Massive Marketing System (MMS)
Skype me at rob.gehring for entry into our Skype Group.
Here's to your success!
Robert Gehring
Skype: rob.gehring
v 2.20